Deposited $40 on Carbon, from a giftcard visa I got from my family for Christmas.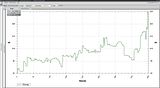 After playing on RPM for a bit, off and on since November, I'm finally down approx. $110. The number one lesson again is, know when NOT to play (but I think I already blogged about this).
The new strategy on Carbon will involve more hit & run, playing at my peak ability for about 300 max hands per session, no more than 6 tables with my current setup. I have not had the time to invest in a day full of SnG's yet, but will when I can manage it. I've been working a lot, so low on time, and low on money because of the IRS tomfoolery. The IRS audited me in 2006 (even though I did everything correctly) and I didn't find out about it until they were garnishing my wages this year, so they made off with $3000 of my wages, that should be all coming back to me, after I get the record I need (because I don't have the receipts 5 years later!
The upside to this is it allows me to build up a bankroll all at once.
I sure do miss PokerStars and I hear so many friends talking about the same thing. Even though I'm in Vegas now, and do better playing Live, I'm often too busy with my busy work schedule to go to the Casinos and play. I look forward to the return of online poker in the U.S.A.